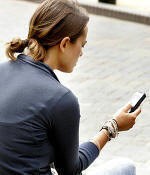 The City of Wilmington Police Department has set up a system to allow witnesses to text message them with anonymous tips. The tip is sent to a main server that is not associated with any police agency.
The Internet based systems route messages through a server that encrypts cell phone numbers before they get to police, making tips virtually impossible to track.
With the server stripping the text of any identifying information before sending the tip to the police department for which it was intended, you're assured that your tip will be delivered anonymously.
How Text-A-Tip Works:
Text TIP708 and your message to CRIMES (274637). Your message must begin with TIP708.

When your message is received at CRIMES, your name and cell phone number will be stripped from
the message before it is forwarded to the Police Department.
When submitting a tip, a randomly generated user id is assigned to your tip.

The user id is the only information sent with your tip to WPD. All other identifying information is "stripped" from the tip.

An exception to this rule is if you have a "signature" attached to your texts. Your signature should be disabled before sending the tip or else it will appear in the body of the tip.


Text-A-Tip provides

anonymous

two-way communication between the tipster and WPD.

Text-A-Tip allows officers to contact the tipster if they need additional information to follow-up on the tip effectively.

Again, the tipster remains anonymous to the Wilmington Police Department throughout the whole process.


Text-A-Tip can be used to report information on any crime but the main focus is providing information on the following crimes:

_ Terrorism

_ Information on Homicides

_ Information on Violent Crimes (Assaults, Armed ... Robberies, Home Invasions, .. Domestic Violence, Child ... Abuse, etc.)

_ Information on Drug Crimes

_ Information on Criminal gangs and their members

_ Information on Illegal Gun Sales and Illegal Gun l.. Possession

_ Fugitives

_ Crimes on School Property

_ Information on Habitual Offenders or Repeat Offenders

_ Suspicious Activity
Examples of Suspicious Activity for Business Owners and Employees

Use of rental vehicles
Purchases of items which can be used to construct a bomb and the person cannot give a legitimate reason for the purchase or does not demonstrate any knowledge of legitimate uses for the products.
Purchase or larceny of pipes, caps, pipe nipples, watches, and timers.
Disposal of potential evidence, such as tools of criminal activity, protected clothing, gloves, masks, fertilizer, chemicals, fuel containers, disposal of large number of unusual items such as boxes of cold medicine.
Unusual odors such as chemical or those consistent with something burning.
Larceny of or missing uniforms, identification, and access cards to restricted areas.
Refusal of maintenance or service over an extended period of time.
Requests for blueprints or schematics for property in an attempt to locate sensitive areas.
Surveillance of potential targets, attempts to access restricted areas, inquiries into security measures, or warnings of a pending attack.
Evade security personnel or cameras.
Request for services at unusual locations.


These items alone may not indicate that a person is involved in criminal activity. WPD would analyze the circumstances of each complaint and determine whether a crime has or is occurring.

You will receive an immediate text reply that will include a confidential I.D. number.

If you use Text a Tip again, you may include your confidential I.D. number, but it is your choice. Text
a Tip is totally anonymous.