Home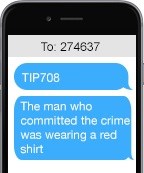 The City of Wilmington Police Department has set up a system to allow witnesses to text message them with anonymous tips. The tip is sent to a main server that is not associated with any police agency. The Internet-based systems route messages through a server that encrypts cell phone numbers before they get to police, making tips virtually impossible to track. With the server stripping the text of any identifying information before sending the tip to the police department for which it was intended.
It's Totally Anonymous
Just text TIP708 and your message to CRIMES (274637). Your message must begin with TIP708.
When your message is received at CRIMES, your name and cell phone number will be stripped from the message before it is forwarded to the Police Department.
You will receive an immediate text reply that will include a confidential I.D. number.
If you use Text a Tip again, you may include your confidential I.D. number, but it is your choice. Text a Tip is totally anonymous.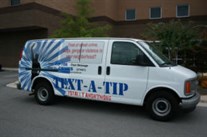 If you see something suspicious or know that someone broke the law, now you can safely get involved and make a difference with Text-A-Tip. Click here for a detailed overview of how Text-A-Tip works.
View Current Press Releases